Santa visits Arrowe Park Hospital on grotto bus

Santa popped into Arrowe Park Hospital aboard his Stagecoach bus to drop off Christmas presents to the Children's Ward. 
The Stagecoach bus has been transformed into a travelling grotto and has been visiting locations across Wirral in the run up to Christmas, raising funds for the WUTH Charity's Tiny Stars Appeal to help premature babies.
All funds raised by the WUTH Charity Tiny Stars appeal will go towards the complete refurbishment of the intensive care unit that specialises in the treatment of ill or premature newborn infants at Wirral University Teaching Hospital (WUTH).
Santa's bus which also had Mrs Clause and a snowman on board, made a pit stop at Arrowe Park Hospital to bring presents to children who are in hospital at this time of year.
The grotto bus has been set up by Gary Fletcher, Paige Farrell and Neil Dodd who are all Stagecoach staff at the Rockferry Depot. It has been out and about in Wirral since the start of December and will be visiting more locations before Christmas. It has so far raised £2,000 for the Tiny Stars Appeal.
A service bus that is fully running to the public has also been decorated inside with lights as well as Christmas decorations and passengers on board are able to make donations to the charity.
Gary Fletcher, who is a Stagecoach driver and charity representative, said: "It was great to visit the Children's Ward and the children loved it. We hope they all get better very soon.
"We've had a really good response to the fundraising and when we've been out with the grotto some children have even given us their tuck shop money."
Victoria Burrows, Head of Fundraising at WUTH Charity, said: "I would like to say a huge thank you to Gary, Paige and Neil for all their fundraising and to all the staff at Stagecoach who have been involved. The bus was a lovely idea and lots of people have enjoyed it in the run-up to Christmas.
"We have had such amazing support to our Tiny Stars Appeal and want to thank everyone in the community who has made a donation. If anyone does see the grotto out and about, pay them a visit."
For information about locations of the bus and their future fundraising visit www.wirralgrottobus.com
-ends-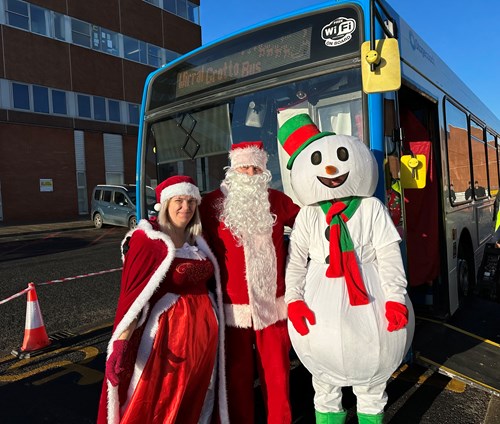 Photo caption:
Stagecoach drivers Sarah Davies dressed as Mrs Clause, Ste Atherton as Santa Clause and Gary Fletcher, dressed as a snowman next to the grotto bus at Arrowe Park Hospital. Photo by Adam Doyle.