Wirral University Teaching Hospital holds an Annual Members' Meeting which is normally an in-person event.  However, during the COVID-19 pandemic the meeting was held virtually via Microsoft Teams.
In November 2022 we were pleased to return to meeting face-to-face.  Click here to view a short video message from our Chief Executive, Janelle Holmes to all our Members.
We also held our first ever Annual Members' Meeting Marketplace - a showcase of some of the work of our departments and partners. Click here to view a short video of The Marketplace.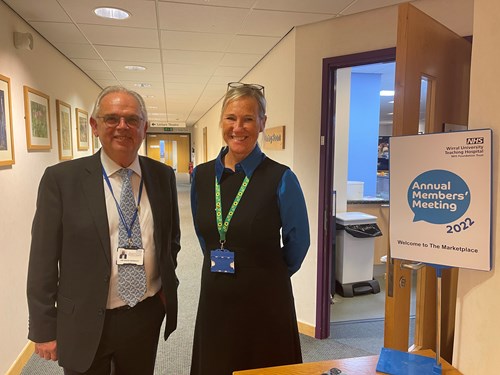 Pictured: Sir David Henshaw, Chair (left), Janelle Holmes, Chief Executive (right)
You can view presentations from current and past years' Annual Members' Meetings in the folder below.
You can view WUTH's Annual Reports by clicking here.
Membership events

Annual Members Meeting