The Highfield Team
The Highfield Team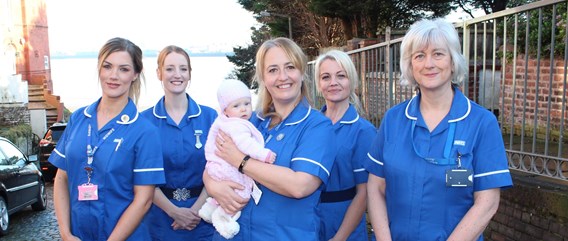 Expectant mums in Wirral have access team of midwives dedicated to women choosing to have their babies at home or in the birth unit at Seacombe Children's Centre.
The Highfield Birth Team consists of six experienced community midwives who will provide a 24 hour service, 7 days a week giving women access to a known midwife throughout their pregnancy, birth and after their baby is born. Named after the former maternity facility on the site of Victoria Central Hospital, the Highfield Birth Team is one of the first of its kind to be up and running in Cheshire and Merseyside. The specialised service makes it easier for mums-to-be to develop relationships with just one or two named midwives over the course of their pregnancy, achieving more continuity and one to one care determined by individual needs and circumstances.
Women under the care of the Highfield Birth Team, are also able to choose from a range of suitable locations for the majority of their antenatal appointments, whether that be a local clinic, at home or even at their place of work where appropriate. If you are thinking about a home birth or would like to know more about having your baby at the new 'pop up' birthing centre opening in Seacombe, please ask your community midwife to refer you to the Highfield Birth Team.
The Seacombe Birth Centre is found in Wallasey and is a standalone birth centre. You can choose to have your baby at the Birth Centre if your pregnancy is uncomplicated and you have had no serious problems in other pregnancies you may have had.
We have one birthing room and a birthing pool and provides a are a relaxing and calm place for you to be and to welcome your baby into the world.  
You can also contact the team directly by emailing wuth.birthteam@nhs.net or by calling 0151 666 3131 during day time hours. Alternatively, please leave a message on 0151 604 7682 and the team will be in touch as soon as possible.