Care Quality Commission (CQC) inspection report for Wirral University Teaching Hospital
The Care Quality Commission (CQC) has today (Tuesday 31st March 2020) published its report following an inspection of health services provided by Wirral University Teaching Hospital NHS Foundation Trust.
It is clear that the Trust has made substantial progress to comply with regulations since the last inspection in 2018, particularly within the safe and well-led domains.
The Trust has been successful at demonstrating to inspectors the significant improvement in medicines management, medical engagement, leadership development and governance.
The overall rating of 'Requires Improvement' clearly shows that a great deal of progress has been made and the Trust remains on course to improve ratings further going forward. The Trust acknowledges the important work that remains to be done to improve access to services, ease congestion across the wider health system, and further improve the implementation of patient-level risk assessment and management.
The data below clearly demonstrates the improvements from the 2018 inspection to the inspection that was conducted in November 2019: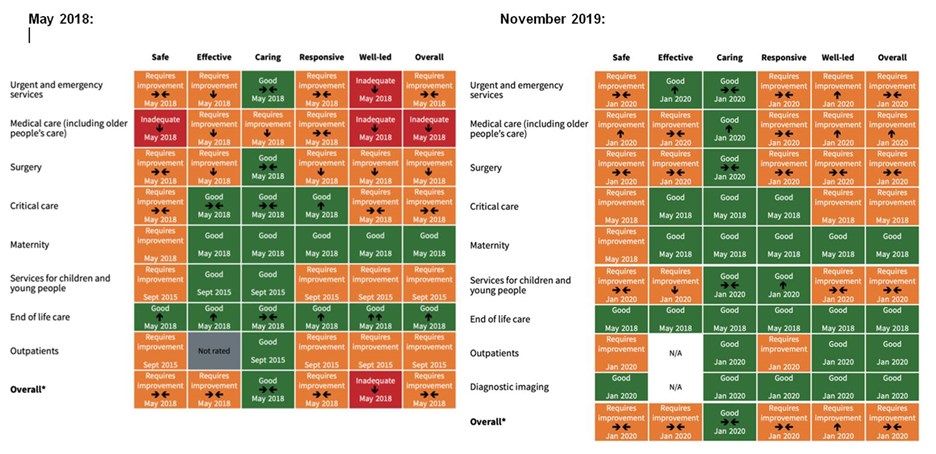 Janelle Holmes, Chief Executive, said:
"I am really proud of the improvements that have been implemented in the last 18 months to provide better services for people, and I pay tribute to our excellent staff who have and continue to work tirelessly in difficult operating circumstances to provide safe and compassionate care. I am grateful to the CQC for acknowledging that staff are always respectful and kind.
"It is a testament to the commitment and dedication of frontline teams that CQC rated the Trust as 'Good' overall for caring. Other core services rated  'Good' include our Maternity, End of Life and Diagnostic Imaging Services.
"It is our view that the Trust has been making steady progress to improve and it's pleasing that the CQC has recognised areas of outstanding practice such as prescribing arrangements, supporting staff who are terminally ill, and promoting equality. These are aspects of care whereby other providers seeking to improve their services can derive benefit and learning."
Sir David Henshaw, Chairman, said:
"It is encouraging that CQC has recognised improved leadership and governance, and uplifted the overall rating in the well-led domain from 'Inadequate' to 'Requires Improvement'. It is clear that notwithstanding the progress that has been made, there remains work to do to overcome the challenges associated with patient flows throughout the wider health system and achieving higher levels of compliance with some care standards. We are determined to build upon the progress made and address all the recommendations in partnership with frontline teams, neighbouring health and social care providers, and regulators.
"I would like to thank the executive team and every member of staff who without their contribution and support we would not have been able to have achieved these significant improvements in such a relatively short time period."