Celebrating our Volunteers

Wirral University Teaching Hospital is thanking its volunteers for the many hours they dedicate to helping its patients.
More than 140 volunteers play a vital role to the health and wellbeing of patients at Arrowe Park Hospital, Clatterbridge Hospital and out in the community.
As part of Volunteers' Week, staff, patients and visitors placed thank you messages on a tree of hands installed in the reception area at Arrowe Park Hospital.
Over the past year they have dedicated thousands of hours in a range of roles. Among the important roles are volunteers who support patients with serious illnesses, holding their hand when they are at the end of their life.
Other roles range from administrative duties, meeting and greeting visitors, befriending patients and the reminiscence team, who offer support for patients with dementia. A number of volunteers also work closely with the Wirral University Teaching Hospital Charity to help raise funds to help patients.
Wally Waters, from Prenton works in the Surgical Elective Admissions Lounge at Arrowe Park Hospital, carrying out administrative duties.
He said: "For me the best thing about volunteering is putting something back into the community. My experience has been that the atmosphere within the Trust is a very welcoming one and you get a lot of job satisfaction doing it."
Annie Cooper from Greasby, who volunteers in reception at Arrowe Park Hospital welcoming visitors, felt inspired to become a volunteer after being a patient in hospital.
She said: "I would say to people who were thinking about becoming a volunteer, go for it. You can't do any wrong, you've got nothing to lose. If you've worked most of your life and you want something to continue, it's brilliant."
Elin Goddard, a young volunteer on Ward 22 at Arrowe Park Hospital added: "It's a really enjoyable experience and you get back what you give to people and they appreciate what you do for them."
The League of Friends shop at the hospital, which has between 40-50 volunteers, has raised over £3.5 million to help patients.
The organisation has a dedicated Volunteer Coordinator, Kathy Orme who said: "I meet so many wonderful people who are willing to give their time to help others. I get a great deal of pleasure in seeing the difference our volunteers make to our patient journey, visitors and staff.
"There are many volunteering opportunities available in different roles across our organisation. We welcome volunteers from teenagers through to our more senior citizens who may be looking for a new challenge. Our volunteers are extremely important in enhancing the quality of our patients' stay in hospital. We would urge anyone looking for something worthwhile and rewarding to do in their spare time to get in touch."
Janelle Holmes, Chief Executive of Wirral University Teaching Hospital said: "All the volunteers give so much to the Hospital and their help and support is very much appreciated for staff, patients and visitors alike. I would like to say a huge thank you to each and every one of them."
For more information about volunteering at Wirral University Teaching Hospital please visit the website wuth.nhs.uk and search for 'volunteering'.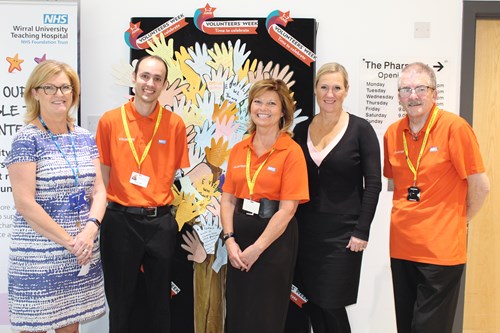 Photo caption:
Pictured (left to right) with the 'thank you' tree of hands at Arrowe Park Hospital reception is Kathy Orme, Volunteer Coordinator; Mark Kinnish, Volunteer; Annie Cooper, Volunteer; Janelle Holmes, Chief Executive and Dave Bestwick, Volunteer.