Highfield Midwives celebrate successful first year!

Midwives from Wirral University Teaching Hospital were joined by local families for a special celebration this week (Wednesday 22nd May) to mark one year since the first baby was born at Seacombe Birth Unit.
The unit, which is a pilot based at Seacombe Children's Centre, was the first of its kind nationally to launch in a community setting where other services are available to give ongoing support to families before and after their baby has been born. Women choosing to have their baby at the birth unit or at home are cared for by the Highfield Midwives, who are part of the hospital's community midwifery team.
Harley Goulding-Bioletti (pictured below) was the first baby to be born at Seacombe Birth Unit and was a special guest at the tea party, where he was reunited with the midwife who helped bring him into the world.
Proud mum Stacy said: "Harley was born here a year ago so it's nice to be back again to join the celebrations on his first birthday. I had always dreamt of having a water birth and when I met the Highfield Midwives, they were so welcoming and reassuring. The care I received was amazing and I would 100% recommend the birth centre."
The Highfield Midwives have delivered 66 babies over the last twelve months, all of whom were born at home or in Seacombe Birth Unit. Since the Highfield Team and pilot birth unit was introduced, over five times more women have chosen to give birth in a community setting with the support of Wirral University Teaching Hospital.* The midwives has also received lots of wonderful compliments from the families under their care.
Divisional Director of Nursing and Midwifery, Debbie Edwards said: "It's great to see so many people celebrating this ground-breaking year for maternity care in Wirral. This facility is a fantastic example of how we are working collaboratively with the local authority and how we are giving women more choice about where they give birth. The Highfield Midwives get to know their women very well, which helps them to build trust and better understand their needs. This approach has informed our plans for other areas of maternity care and I'm very proud of our staff and the progress we are making."
Catherine McClennan, Programme Director for the Improving Me Cheshire and Merseyside Women's and Children's Services Partnership (the NHS programme driving the developments), said: "I am so proud of the Highfield Midwives for the care they have provided in the Seacombe Birth Centre and in the local community. A year ago we had a great event to celebrate the opening of the centre and to be celebrating 66 births is incredible. This model of care is a clearly what women and families want and I am really grateful for the Support from WUTH, Wirral Clinical Commissioning Group and Wirral Council. I would like to thank for the local community for embracing this opportunity to work together with our health care teams to improve maternity care and ensure that Seacombe is here to stay.''
The Highfield Midwives were part of the local response to recommendations made by the 2016 National Maternity Review, 'Better Births', which set out a clear vision of achieving safer, more personalised and more family-friendly maternity services. The hospital is soon to implement similar models for other areas of maternity care, such as elective caesareans and other hospital births, which will provide even more women with better continuity and care determined by their individual needs and circumstances.
Earlier this year, Wirral University Teaching Hospital was praised for achieving one of the best results in the country in a survey by health regulator, CQC, about the experiences of women who give birth there. In addition, it has supported the establishment of Wirral Maternity Voices Partnership, which gives local women and their families the opportunity to help shape future services. It was also named a finalist in the Midwifery Service of the Year category of the 2019 Royal College of Midwives (RCM) national awards.
*Since the Highfield Team and pilot birth unit was introduced, there have been over five times more births in a community setting (home births and at Seacombe Birth Centre). In 2017, community midwives from Wirral University Teaching Hospital supported 13 home births.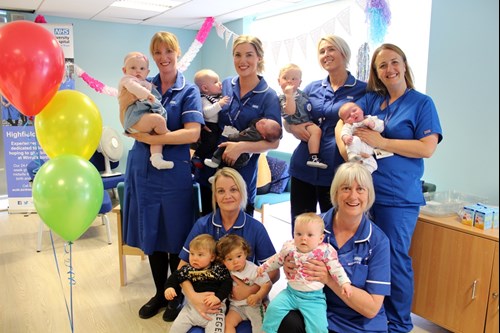 The Highfield Midwives with some of the babies that they have delivered.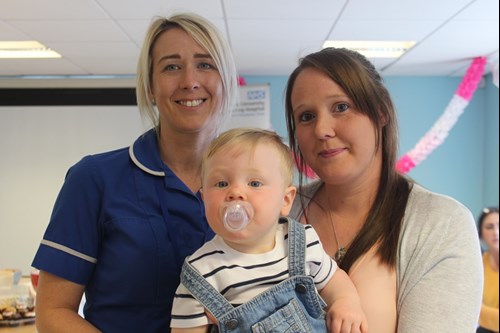 Birthday boy, Harley with his mum Stacy and midwife Carly Nulty who welcomed him into the world this time last year.
Background
Seacombe Birth Unit was opened as a pilot in response to NHS England's Better Births Report (2016), which identifies that the 87% of women nationally will give birth in a hospital, but only 25% of women would choose that as their first choice. This is backed up by guidance provided by the National Institute for Health and Care Excellence (NICE), which states that freestanding midwifery units are "associated with a higher rate of spontaneous vaginal birth" compared with births in other settings.
Based at Seacombe Children's Centre, which is run by Wirral Council, the birthing unit encourages women with a low risk of complications (something established clinically during discussions between a woman and her midwife) to give birth in a non-medicalised setting where wrap around services are also available to support families postnatally and beyond.
As the first birthing centre nationally to launch in a multi-purpose community setting, the facility is providing key insight into the cultural effectiveness and uptake of more community-focused birthing options. The facility is run by experienced, highly skilled midwives from Wirral University Teaching Hospital NHS Foundation Trust (WUTH).