WUTH among best in country in CQC maternity care survey

Wirral University Teaching Hospital (WUTH) has been praised for achieving one of the best results in the country in a survey by the health regulator about the experiences of women who give birth there.
It was one of nine NHS trusts identified as being "better than expected" in a national survey by the Care Quality Commission (CQC). WUTH also achieved the best results in Merseyside and Cheshire.
In the 2018 Survey of Women's Experiences of Maternity Care which involved 129 trusts, over 17,000 women were questioned about the care they received during their pregnancy, while they were having their baby and after the baby was born.
The organisation achieved its best ever results and performed better than most other trusts in 11 core areas with a higher proportion of women responding positively about the care they received. These included questions about being involved in decisions about their care, appropriate length of stay in hospital, receiving help from the midwife when needed and being treated with kindness after the birth of their baby.
It outperformed other trusts in questions relating to whether mums were seen in a reasonable time by a member of staff during the labour or birth and receiving enough information when it was needed after they had given birth.
Compared to most other organisations, WUTH scored better in regards to women feeling they were given enough information about their own physical recovery after the birth. It also performed higher than most in relation to women feeling they received help and advice from a midwife or health visitor in the six weeks after their baby was born.
Gaynor Westray, Director of Nursing and Midwifery, said: "We are always striving to provide the best care we can for mums, babies and families not only in the hospital but in the community. I'm delighted that the results reflected the kindness and care our midwives give to our patients as this is hugely important to us. I would like to thank our maternity teams for their hard work over the past year."
Debbie Edwards, Divisional Director of Nursing and Midwifery, added: "It is fantastic that we have outperformed most other organisations in key areas of the survey. We are continuing to improve on our results by showing we are not complacent as we continue to develop our service. We have a really dedicated and innovative team who are always looking to enhance the service we provide.
"Last year we opened our birthing unit in Seacombe Children's Centre to support continuity of care, which was one of the first of its type in the country. Our maternity colleagues have also supported the establishment of the Wirral Maternity Voices Partnership whereby all women and their families who use our service can have a voice and help shape our future. We were also delighted to have recently been named a finalist in the Royal College of Midwives (RCM) annual national awards for the care our maternity service provides."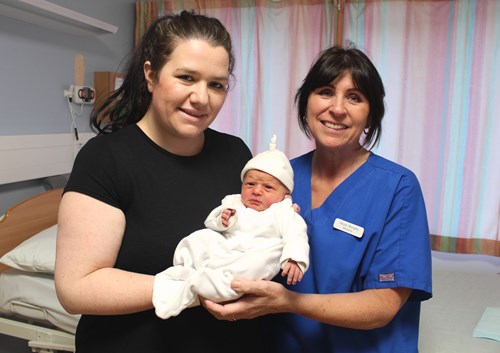 Photo caption:
Rachel Roberts, 33, from Prenton in Wirral, with her baby son Declan McPoland, who was born this week on 30th January at Wirral University Teaching Hospital, pictured with Midwife, Jayne Murphy.
Notes to editors
The 'better than expected' trusts were:
City Hospitals Sunderland NHS Foundation Trust
East Lancashire Hospitals NHS Trust Harrogate and District NHS Foundation Trust
Leeds Teaching Hospitals NHS Trust
Northern Lincolnshire and Goole NHS Foundation Trust
Northumbria Healthcare NHS Foundation Trust
Salisbury NHS Foundation Trust
The Newcastle upon Tyne Hospitals NHS Foundation Trust
Wirral University Teaching Hospital NHS Foundation Trust