Say "hello" to Harley and Margot!

The mothers of the first babies to be born at the new pioneering birth unit in Seacombe Children's Centre have shared their joy at welcoming their babies into the world.
On 22nd May 2018, Harley Goulding-Bioletti became the first ever baby to be born at the unit weighing 7lb 2oz. Just two days later, midwives delivered the first baby girl, little Margot Fitzsimmons who weighed 6lb 15oz.
Harley's mum, Stacy Goulding, lives just two minutes from Seacombe Children's Centre and after having two hospital births with her previous children, wanted to give birth in a less clinical setting. After registering with the Highfield Midwives, who are part of Wirral University Teaching Hospital, she was supported to have the birth she'd always dreamed of and in doing so, made local history by becoming the first ever woman to have her baby in the unit.
Stacy explained: "I am honoured that Harley was the first baby born here and have such special memories of his birth. The Children's Centre is very familiar to me as my other children went to nursery there. I had always dreamt of having a water birth and when I met the Highfield Midwives, they were so welcoming and reassuring that it just made sense for me to choose the birth centre.
"Being in that environment helped me to stay so calm throughout my labour, so much so that I didn't even need gas and air! It felt a lot more relaxed than I did when having my previous children and I am convinced that this helped me to have the birth I wanted.  I was lucky that Harley fed straight away and after two hours of him being born, I was able to take him home and introduce him to his big brothers before our midwife visit later that evening.
"I would honestly tell anyone considering using the birth centre to go for it."
Midwife, Carly Nulty was delighted to have delivered the first baby in the children's centre, which is run by Wirral Council.
She said: "There was a lot of anticipation leading up to the birth centre opening and I am thrilled to have had the honour of delivering little Harley. Stacy was amazing throughout and is a great example of why I get so much job satisfaction from being one of the Highfield Midwives.
"Being able to offer women more choice about where they give birth is really important and our approach allows us to get to know women well during their pregnancy, which helps to build trust and make them feel more comfortable. It is lovely being based at the Children's Centre because I get to bump into our mums and their babies when they come to activities or health visitor clinics."
First-time parents, Rebecca Higgins and Michael Fitzsimmons from Wallasey, described welcoming their little girl, Margot, as "amazing". After taking part in hypnobirthing classes during her pregnancy, Rebecca felt strongly about having her baby in the most relaxed way possible. Despite some initial reservations about using the birth centre because it was so new, she felt encouraged by the fact that she'd developed a good relationship with her midwife, who was committed to honouring their wishes for the birth of their baby girl.
Margot's dad, Michael, said: "Our experience at the birth centre was so relaxed and laid back. The support we both received was great, without being too intrusive and there was lots of encouragement at all the right times."
Although she was only born three weeks ago, Baby Margot has already been back to Seacombe Children's Centre, where she snoozed her way through a 'baby sense' class and Rebecca is looking forward to taking part in more activities as they enjoy precious time together over the coming months.
Cllr Bernie Mooney, Wirral's Cabinet Member for Children and Families, said: ''It's such lovely news that we've been able to welcome these new babies straight into their local community with the birthing unit at the Children's Centre. It's clear that the centre plays a key role for families, and the ability to offer parents a choice to have their babies in a different environment, really close to home, just adds to this. I hope we get to welcome Margot and Harley back again very soon."
If you would like to know more about having your baby at the birth centre in Seacombe or are thinking about a home birth, please ask your community midwife to refer you to the Highfield Birth Team. You can also contact the team directly by emailing wuth.birthteam@nhs.net or by calling 0151 639 2221 during day time hours. Alternatively, please leave a message on 0151 604 7682 and the team will be in touch as soon as possible.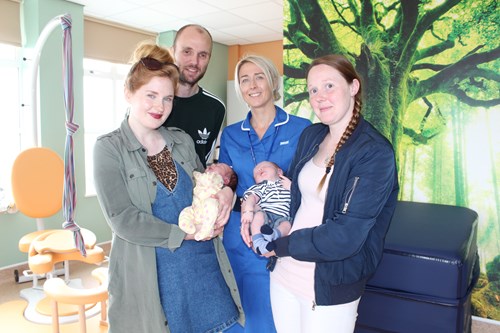 Pictured (above): Rebecca Higgins and Michael Fitzsimmons with baby Margot, Midwife Carly Nulty and little Harley with his mum Stacy Goulding.