Library and Knowledge Service Lead
Library and Knowledge Service Lead
Welcome to our new Library and Knowledge Service Lead, Alexandra Williams.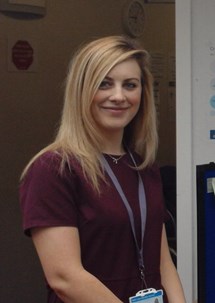 Alexandra has been a qualified librarian since 2011 and have worked as a library assistant, outreach librarian, clinical librarian and library manager at Warrington & Halton Hospitals. She had a brief stint managing a learning and development department at the same trust before moving to Arrowe Park. She has worked closely with clinicians on several nationally published guidelines including topics such as difficult airway management and vaginal lichen planus. She has also supported corporate and clinical teams to achieve quality standards in knowledge management, including leading a full-team "knowledge harvest" with medical engineering colleagues.
Alexandra is currently meeting colleagues from around the Trust and looks forward to exploring your Library, Evidence and Knowledge Management needs.