Library News
Library News
Library Refurbishment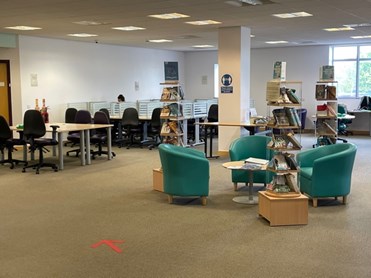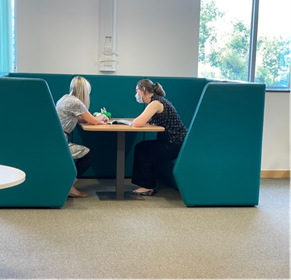 Your Library & Knowledge Service is working on zoning the physical library environment into a silent study area, space for quiet collaborative/group work and a Read & Relax area. The furniture and seating have been updated and brand new laptops are now available for loan. We weeded the bookstock and removed a large amount of shelving to create more open space. This is a work in progress but we wanted to share with you that new furniture has been installed and physical work is being undertaken to create the spaces, working and learning environment that our users have said that they want. We apologise for any inconvenience whilst this reconfiguration work is being undertaken. We hope that you will feel it is all worthwhile when it is complete. 
Randomised Chocolate Trial
Testing the effects of chocolate consumption was undertaken during a Randomised Chocolate Trial in celebration of International Clinical Trials Day, Friday 19th May. The event which attracted 100 recruits explored the question "Does milk chocolate or white chocolate improve wellbeing?"
The Research Department along with the Library and Knowledge Service celebrated International Clinical Trials Day by holding a Randomised Chocolate Trial. Colleagues were invited to participate and the aim was to highlight the importance of research in healthcare as well as to help participants understand how clinical trials work.
New e-books for all WUTH staff
Survey Winner
Congratulations to Charlotte Eva, Medical Student on winning the Library & Knowledge Service Survey prize of a £25.00 book token.
Thank you to all who took part in the survey, your views are very important to us.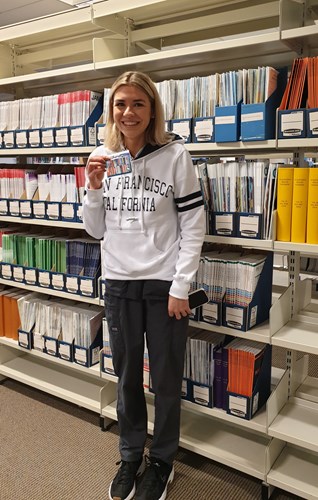 COVID-19 information
Covid-19: Update of Information available December 2020
HEE National
Last updated: October 2020 onwards
HEE have compiled a website for new guidance and advice for primarily trainees and students in various fields (AHP, Nursing, Midwifery, Doctor trainees, etc.). Previous guidance relating to March-September 2020 is also available via this website.
HEE North East
COVID-19: Information for HEE NE doctors and dentists in training, faculty & stakeholders
Last updated: December 2020 onwards
In this rapidly moving and challenging time, HEE NE have created this specific webpage resource with the aim to help keep our doctors and dentists in training up to date and informed. We also hope this resource will be helpful for our PGMDE faculty and partner NHS trusts and wider stakeholders.
We will be continually updating this website as further information, documentation and announcements occur.
This local HEE NE resource should be read in conjunction with HEE's national dedicated website: https://www.hee.nhs.uk/coronavirus-information-trainees
Includes:
Clinical learning packages and advice for those caring for patients
Local HEE NE COVID-19 key documents – including the regular bulletin of evidence on this topic: HEE North East and Yorkshire COVID-19 Bulletin
National COVID-19 key documents
Public Health England
Finding the Evidence: Coronavirus
Last updated: December 2020 onwards
Public Health England has a dedicated page of information concerning the evidence and guidance surrounding coronavirus. The 'keeping up to date' section includes the following:
Please note: external to NHS. Most content is Open Access but some content may be unavailable or require OpenAthens login.
UpToDate (WUTH and CCC staff only: login via IP on-site or OpenAthens off-site)
The latest clinical information available, including:
Please note: UK Guidance should be followed regarding prescribing.
BMJ Best Practice (WUTH, CCC, WCHC staff: login via OpenAthens)
Last updated: December 2020 onwards
Coronavirus disease 2019 (COVID-19)
Includes important updates, as well as an overview of condition, theory, treatment, management, follow-up and resources (including patient information leaflets) etc.
NICE
Last Updated: December 2020 onwards
Guidance and resources to support the health and social care system in its continuing support of the pandemic
Includes:
NICE Guidelines on COVID-19
Rapid evidence summaries
Medtech innovation briefings
Resources to help restore services
Clinical Knowledge Summaries
RAPID-C19 initiative
Shared learning examples
NHSE&I specialty guides
Cochrane Library
Last updated: December 2020 onwards
Includes a number of special collections of systematic reviews on COVID-19, including:
30 November 2020
24 November 2020
18 November 2020
6 November 2020
See also other systematic reviews concerning coronavirus infection, Cochrane protocols, trials, and clinical answers.
New England Journal of Medicine
A collection of articles and other resources on the Coronavirus (Covid-19) outbreak, including clinical reports, management guidelines, and commentary.
All journal content related to the Covid-19 pandemic is currently freely available.
ScienceDirect
Novel Coronavirus Information Center
Last updated: November 2020 onwards
Elsevier's free health and medical research on the novel coronavirus (SARS-CoV-2) and COVID-19
Oxford University Press
Access to OUP resources on COVID-19, other coronaviruses, and related topics
As part of our response to the ongoing COVID-19 pandemic across the world, Oxford University Press has made content from online resources and leading journals freely accessible to assist researchers, medical professionals, policy makers, and others who are working to address this health crisis.
British Medical Journal (BMJ)
BMJ's Coronavirus (covid-19) hub
BMJ's covid-19 hub supports health professionals and researchers with practical guidance, online CPD courses, as well as the latest news, comment, and research from BMJ. The content is free to access and updated daily.
Are you unable to locate the evidence you require?
Library and Knowledge Services: Mediated Literature Search service
If you cannot locate the guidance you require, your library team is here to do it for you.
Please request a literature search via the library webpages for any evidence enquiry relating to your professional work.
New Library & Knowledge Service Lead
Your Library & Knowledge Service (LKS) has a new LKS Lead, Jackie Pearce. Jackie joined WUTH from the start of the year. Jackie says "I am delighted to be joining the established, professional LKS and Medical Education team and hope to meet many WUTH staff and students soon.
For the past 26 years, I have worked in academic libraries, supporting students, academics and researchers at the University of Liverpool (20 years) and Liverpool School of Tropical Medicine (LSTM).  
The LKS Lead post presents me with an opportunity to broaden my experience within the LKS field as well as utilise my past experience to develop and tailor the current and future service provision to best meet the requirements of all stakeholder Trust's staff and students on placement.
At a time when the strains on NHS staff are so prevalent, one of the key messages I intend to disseminate as soon as possible, is the 'gift of time[i]' we can offer healthcare professionals by taking the 'heavy lifting' out of getting evidence into practice. "
Value Proposition: The Gift of Time | Health Education England (hee.nhs.uk)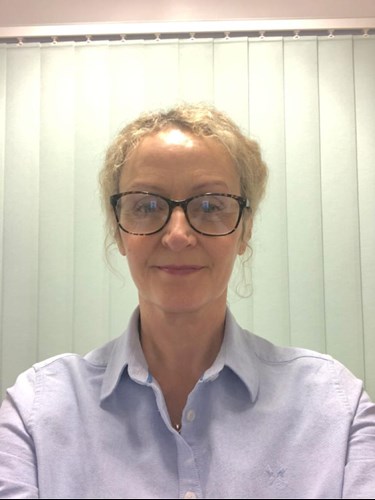 Uplifting resources for the NHS from the NHS
Health Education England and The Reading Agency have crowd-sourced an uplifting book collection and list of digital resources from NHS staff. The choices were recommended by your colleagues in the NHS and are ideal for boosting your mood.
Collection of digital resources
Uplifting book collection
A book collection of 10 uplifting titles were announced as part of Health Information Week 2021. All 10 titles are now available for loan from th McArdle Library, to support staff wellbeing.