Library News
Library News

Library and Knowledge Service Lead
Welcome to our new Library and Knowledge Service Lead, Alexandra Williams.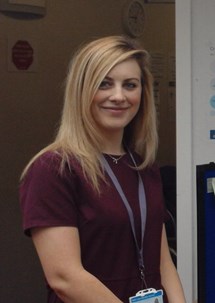 Alexandra has been a qualified librarian since 2011 and have worked as a library assistant, outreach librarian, clinical librarian and library manager at Warrington & Halton Hospitals. She had a brief stint managing a learning and development department at the same trust before moving to Arrowe Park. She has worked closely with clinicians on several nationally published guidelines including topics such as difficult airway management and vaginal lichen planus. She has also supported corporate and clinical teams to achieve quality standards in knowledge management, including leading a full-team "knowledge harvest" with medical engineering colleagues.
Alexandra is currently meeting colleagues from around the Trust and looks forward to exploring your Library, Evidence and Knowledge Management needs.
Library Lounge

A health and well being space is now available to WUTH staff and students in the McArdle Library, Education Centre, APH.  The Library Lounge encourages relaxation, mindfulness and reflection, and features comfortable seating, beanbag pods, jigsaws and colouring books.  Please call in and take a look at our new space.  If you'd like to use the space for team activities (e.g. meditation, mindfulness, reflection), please contact us.
Randomised Chocolate Trial
Testing the effects of chocolate consumption was undertaken during a Randomised Chocolate Trial in celebration of International Clinical Trials Day, Friday 19th May. The event which attracted 100 recruits explored the question "Does milk chocolate or white chocolate improve wellbeing?"
The Research Department along with the Library and Knowledge Service celebrated International Clinical Trials Day by holding a Randomised Chocolate Trial. Colleagues were invited to participate and the aim was to highlight the importance of research in healthcare as well as to help participants understand how clinical trials work.
New e-books for all WUTH staff
All WUTH Athens account holders now have access to Community and Public Health titles including:
Public Health and Epidemiology at a Glance from the hugely popular 'At A Glance' series
Health communication : from theory to practice - introduces existing challenges and areas of interest in health communication
The Routledge Handbook of Planning for Health and Well-Being  - case studies of good practice from around the globe.
You can access these titles and more from the Library & Knowledge Service catalogue. http://arrowe.cirqahosting.com/
 All you need is your Open Athens account.
Contact the Library and Knowledge Service for details on accessing the catalogue and registering for an Open Athens account.