Library News
Library News

Think. Check. Submit - Research Support
Preparing to publish a research output can be daunting, especially if it is for the first time. It is not always easy to identify a trusted publisher!
Think. Check. Submit. provides researchers with the tools they need to decide which publishing venue is the most appropriate for their work. It encourages researchers to look out for the characteristics displayed by predatory publishers and use the checklist of questions to evaluate publishers when considering where to submit their research.
See the below video or click the image below to find out more!

Critical Appraisal Programme

HEE have now announced the provision of their new training, Critically Appraising the Evidence Base. 
This programme aims to support NHS colleagues with understanding the different methods and tools to carry out critical appraisal of research, through 8 bite-sized modules.
By the end of the programme, learners will be able to:
describe the following terms; critical appraisal, bias, internal validity and external validity
distinguish between different types of study designs and their strengths and limitations
assess the appropriateness of methods used to conduct a randomised controlled trial, systematic review, diagnostic study and qualitative study
interpret commonly reported results found in clinical papers
identify different types of critical appraisal tools and their strengths and limitations
For more information click the image above to link to their site, or follow the link here:
Critically Appraising the evidence base - elearning for healthcare (e-lfh.org.uk)
Essential Procedural Videos
Essential Procedural Videos
As part of our subscription to BMJ Best Practice, we have been granted access to procedural videos, aimed at enhancing clinical practice.
They cover essential clinical techniques such as bag-valve-mask ventilation, lumbar puncture and performing an ECG. A list of equipment, contraindications, indications, complications and aftercare is included.
Click the image below to link to the videos!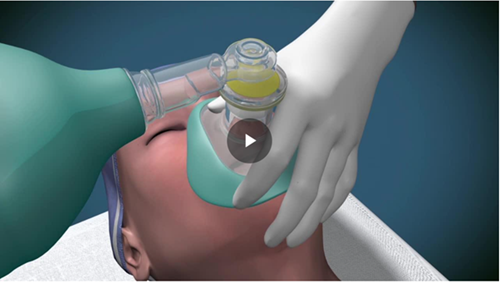 Annual Report
Our Annual report is now complete and available to view!
You can access the report for 2021-2022 by clicking the document at the foot of this page!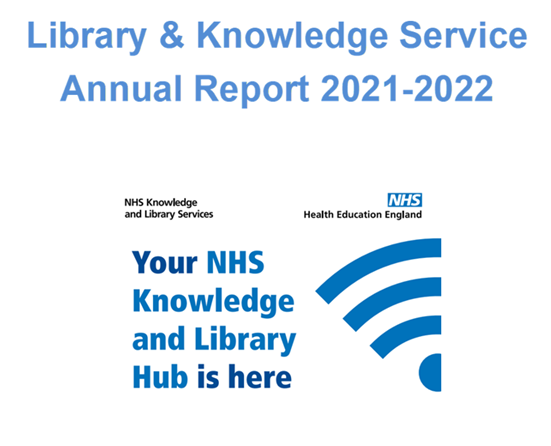 Mindfulness - Meditation Ipads
To support Mindfulness your library now provide Ipads with access to meditation and mental wellbeing apps.
Take 10 minutes to relax and recharge with a guided meditation in our read and relax area!
For full details please contact a member of our team by:
Phone: 01516047223
Email: wuth.lks@nhs.net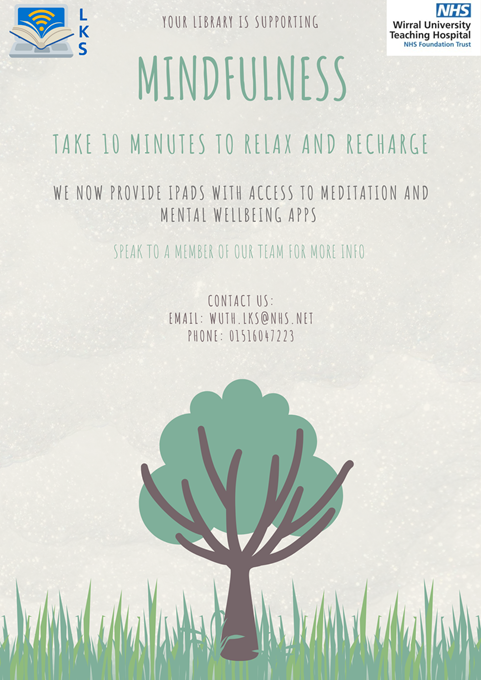 New Evidence Based Resources
New Evidence Based Resources
LKS are pleased to announce the provision of two new evidence based resources:-
The Maudsley Prescribing Guidelines in Psychiatry
An evidence-based handbook on the safe and effective prescribing of psychotropic agents. Covering both common and complex prescribing situations encountered in day-to-day clinical practice, this comprehensive resource provides expert guidance on drug choice, minimum and maximum doses, adverse effects, switching medications, prescribing for special patient groups, and more.
Social Policy and Practice
Social Policy and Practice represents an important source of evidence-based social science research for policy-makers, practitioners, educators and students working within economic and social development, social administration, social services, and care management. Coverage is extensive and includes: Public health; Social care; Community development; Mental and community health; Equalities; Law and order; Children and families; Older People
The database comprises over 320,000 bibliographic records, with a significant number citing important "grey literature" sources such as semi-published reports, surveys and statistics.  Users can link to full text (where available).
You can access the new resources along with numerous other resources via the Knowledge Hub.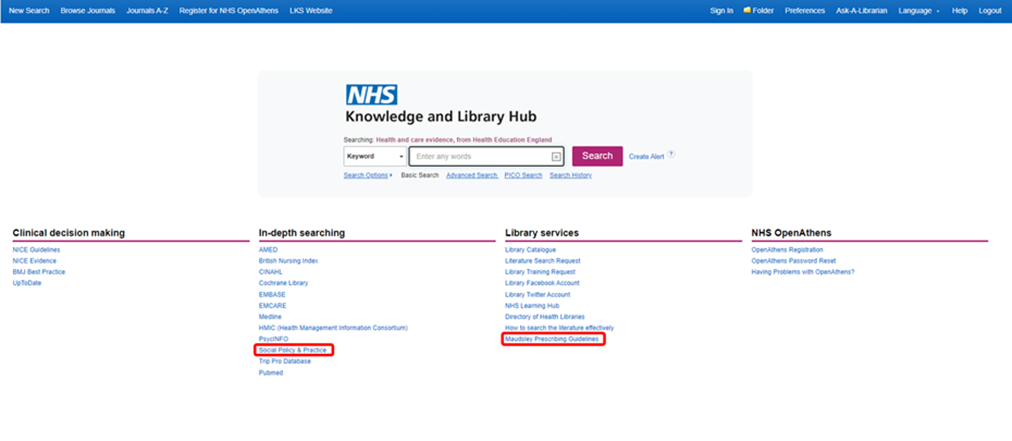 New Knowledge and Library Hub
We're proud to announce the new Knowledge and Library Hub, a single area that will allow access to:
Journals, books and databases 
Clinical decision support resources including NICE Guidelines and BMJ Best Practice 
Resources purchased nationally and locally  
One-click links to full-text, request a copy or contact an NHS library
You can access the hub through our new search bar on the Knowledge and Library Services main page.  
We are in the very early stages of implementing the Hub, so please keep an eye out for further updates as they come!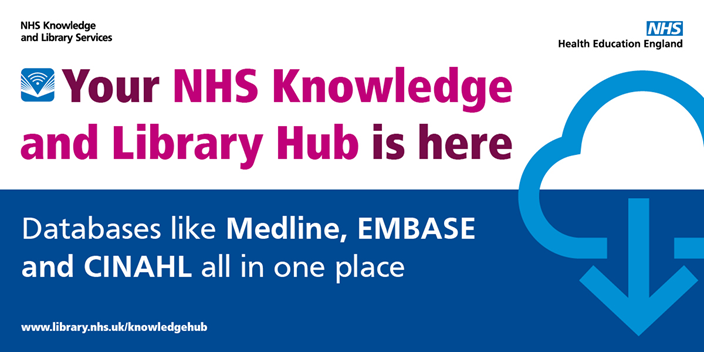 Library Refurbishment
The refurbishment has now been completed!
We have weeded out book stock that is not in use and brand new laptops are available to loan.  
We have also divided the library into 4 areas to diversify our space. Our new areas include:
Silent Study
Before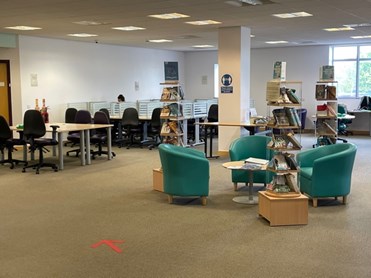 After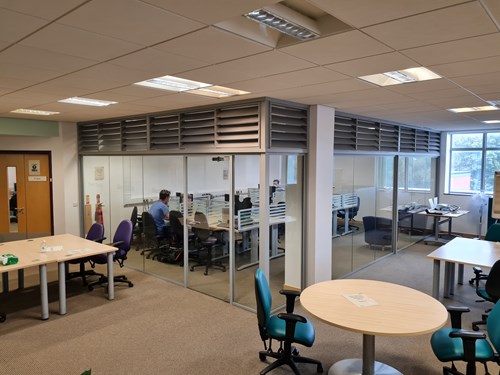 This space now holds 8 PCs and provides a silent study area for users. 
Read and Relax
Before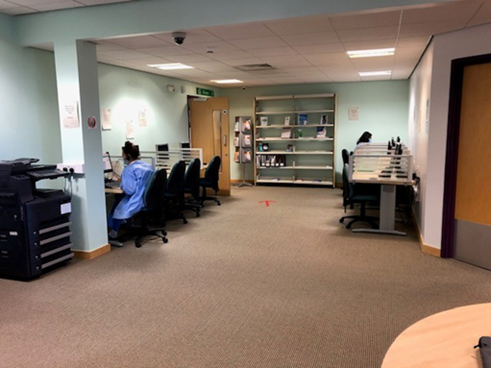 After
The Read and Relax area provides a comfortable space to browse and read our fiction and wellbeing collections. Feel free to grab a seat on the couch or the beanbag and have a read!
Group Study
Before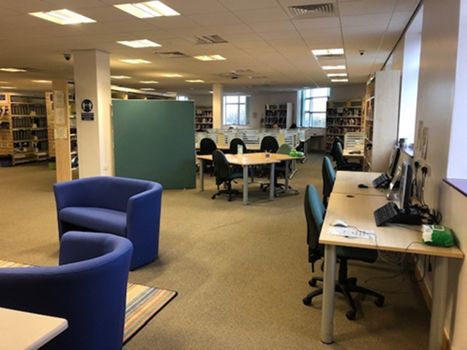 After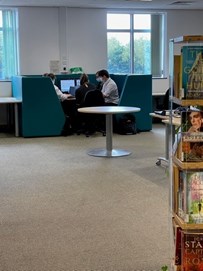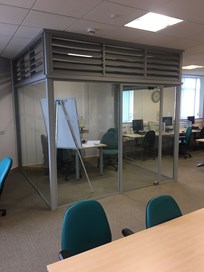 The Group Study space is a useful Pod allowing groups to discuss. It has a single PC which displays to the entire group and a flipchart which can be used. 
General Library Space
Before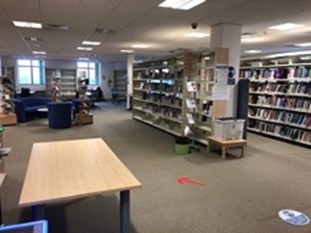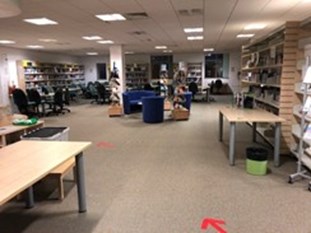 After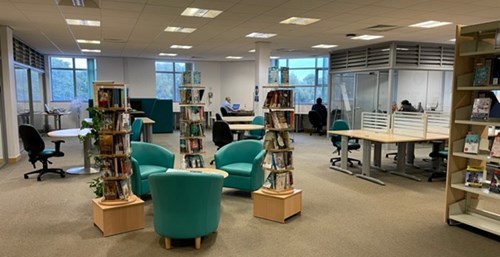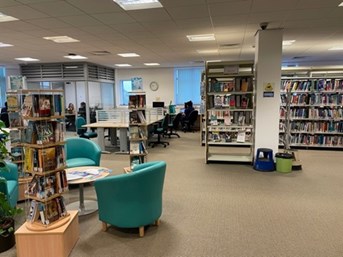 The General Space holds our collection of textbooks and medical journals, as well as partitioned desks and work tables for general use. We also have 4 PCs in this area.  
Thank you for all your patience while we improved your library!
New e-books for all WUTH staff
COVID-19 information
Covid-19: Update of Information available December 2020
HEE National
Last updated: October 2020 onwards
HEE have compiled a website for new guidance and advice for primarily trainees and students in various fields (AHP, Nursing, Midwifery, Doctor trainees, etc.). Previous guidance relating to March-September 2020 is also available via this website.
HEE North East
COVID-19: Information for HEE NE doctors and dentists in training, faculty & stakeholders
Last updated: December 2020 onwards
In this rapidly moving and challenging time, HEE NE have created this specific webpage resource with the aim to help keep our doctors and dentists in training up to date and informed. We also hope this resource will be helpful for our PGMDE faculty and partner NHS trusts and wider stakeholders.
We will be continually updating this website as further information, documentation and announcements occur.
This local HEE NE resource should be read in conjunction with HEE's national dedicated website: https://www.hee.nhs.uk/coronavirus-information-trainees
Includes:
Clinical learning packages and advice for those caring for patients
Local HEE NE COVID-19 key documents – including the regular bulletin of evidence on this topic: HEE North East and Yorkshire COVID-19 Bulletin
National COVID-19 key documents
Public Health England
Finding the Evidence: Coronavirus
Last updated: December 2020 onwards
Public Health England has a dedicated page of information concerning the evidence and guidance surrounding coronavirus. The 'keeping up to date' section includes the following:
Please note: external to NHS. Most content is Open Access but some content may be unavailable or require OpenAthens login.
UpToDate (WUTH and CCC staff only: login via IP on-site or OpenAthens off-site)
The latest clinical information available, including:
Please note: UK Guidance should be followed regarding prescribing.
BMJ Best Practice (WUTH, CCC, WCHC staff: login via OpenAthens)
Last updated: December 2020 onwards
Coronavirus disease 2019 (COVID-19)
Includes important updates, as well as an overview of condition, theory, treatment, management, follow-up and resources (including patient information leaflets) etc.
NICE
Last Updated: December 2020 onwards
Guidance and resources to support the health and social care system in its continuing support of the pandemic
Includes:
NICE Guidelines on COVID-19
Rapid evidence summaries
Medtech innovation briefings
Resources to help restore services
Clinical Knowledge Summaries
RAPID-C19 initiative
Shared learning examples
NHSE&I specialty guides
Cochrane Library
Last updated: December 2020 onwards
Includes a number of special collections of systematic reviews on COVID-19, including:
30 November 2020
24 November 2020
18 November 2020
6 November 2020
See also other systematic reviews concerning coronavirus infection, Cochrane protocols, trials, and clinical answers.
New England Journal of Medicine
A collection of articles and other resources on the Coronavirus (Covid-19) outbreak, including clinical reports, management guidelines, and commentary.
All journal content related to the Covid-19 pandemic is currently freely available.
ScienceDirect
Novel Coronavirus Information Center
Last updated: November 2020 onwards
Elsevier's free health and medical research on the novel coronavirus (SARS-CoV-2) and COVID-19
Oxford University Press
Access to OUP resources on COVID-19, other coronaviruses, and related topics
As part of our response to the ongoing COVID-19 pandemic across the world, Oxford University Press has made content from online resources and leading journals freely accessible to assist researchers, medical professionals, policy makers, and others who are working to address this health crisis.
British Medical Journal (BMJ)
BMJ's Coronavirus (covid-19) hub
BMJ's covid-19 hub supports health professionals and researchers with practical guidance, online CPD courses, as well as the latest news, comment, and research from BMJ. The content is free to access and updated daily.
Are you unable to locate the evidence you require?
Library and Knowledge Services: Mediated Literature Search service
If you cannot locate the guidance you require, your library team is here to do it for you.
Please request a literature search via the library webpages for any evidence enquiry relating to your professional work.